A Safe Family-Friendly Neighborhood with Easy Access to the City
Oakton boasts some of the most beautiful homes in Fairfax County. It is a quieter, more spacious area of Fairfax known for its impressive neighborhoods and geography. The area invites all ranges of people from new families to active retirees. Being so close to DC, Oakton is a great place for business leaders or government workers as the commute is much more manageable. Oakton also has a thriving community center and downtown area, making it an active and enjoyable area to live in.
Northern Virginia schools are known to be some of the best in the country so families moving into Oakton can be assured that their children will receive peak education. The town's public schools include Oakton and Waples Mill elementary schools. Students may also attend public schools in Vienna, including Flint Hill Elementary School or Luther Jackson or Henry David Thoreau middle schools. Oakton has two public high schools: Oakton and James Madison. Flint Hill School, the Northern Virginia Friends School, Dominion Christian School and the Montessori School of Oakton all offer private education.
Oakton is conveniently located to Vienna, Tyson's Corner, and McLean and is within walking/biking distance of the last Metro stop on the Orange line. Oakton is the home of George Mason University, Virginia's largest public research university. The campus is home to 34,000 students from 130 countries, making Oakton a vibrant college town.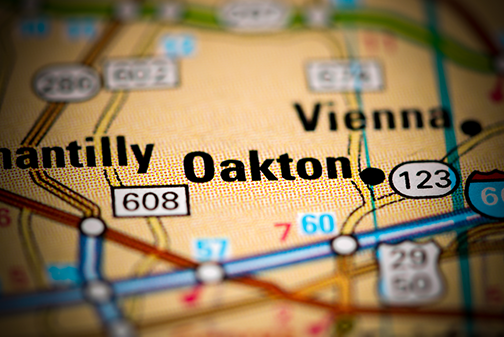 THE NEIGHBORS
36,739 Residents
$120,762 Median Household Income
60% College Educated
WHAT TO EXPECT
Dense population of educated professionals
Beautiful, quiet neighborhoods
Lots of natural spaces and the WOD trail
WHAT NOT TO EXPECT
Lots of retail shopping
THE LIFESTYLE
Rated #8 Best Place to Live in VA
Rated #14 Best Suburbs for Millennials in VA
THE MARKET
Homes/$586,500 Median Home Value